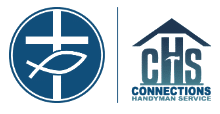 3055 E. Division
Springfield, MO 65802
417-862-3586
Fax: 417-862-2129
Hours of Operation
M-F, 8:00am-4:00pm
Connections Handyman Service (CHS) inspires hope for senior homeowners with free, essential home repairs and upkeep that empower them to live safely in their own homes.
Every 11 seconds a senior is treated in the ER due to a fall. In order to prevent falls and support healthy living, it's important to provide solutions for homeowners with limited incomes. Home repair projects include, but are not limited to, modification for accessibility, minor handyman-style repairs, and lawn/landscaping upkeep.
The need for services is based on referrals or an individual's direct application with CHS. Once the referral is received and validated through a home visit, a licensed professional evaluates the request, which is then submitted to the CHS coordinator for review and funding approval.
Limited to Greene County residents who own their home (due to current funding)
Applicants must be age 60+
Repairs must be "essential", meaning the residence is uninhabitable or unsafe to live in without repairs
Licensed & insured contract service providers can donate time for projects requiring "skilled labor"
Church, school, or civic groups needed for "unskilled labor" projects
Monetary donations make it possible to assist in the current area of greatest need, as we respond to a variety of requests.
Donate to Connections Handyman Service