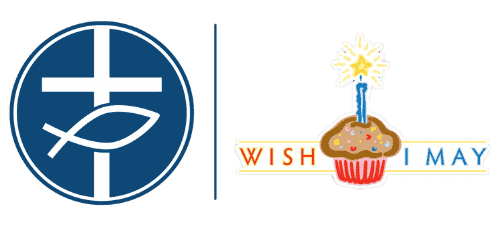 3055 E. Division
Springfield, MO 65802
417-862-3586
Send Email
Hours of Operation
Wish I May is located at the Crosslines Resource Center and is open Monday-Friday from 8:00am – 4:30pm.
Please drop donations off at the front door of 3055 E. Division St., Springfield, MO 65802.
Every Child Deserves a Happy Birthday! Wish I May is an important piece of Crosslines by providing 'Happy Birthdays' to underprivileged children and their parents/guardians.
The children we reach are those whose families are experiencing extreme financial difficulties and find it impossible to provide even the smallest birthday celebration. Wish I May is volunteer-based and donation driven. We want every gift and donation given to go straight to the families we serve.
Wish I May knows that every child's birthday is important and that even when parents and guardians don't have the means to provide, the toys given through our organization let them give their children a special day. Too many families find themselves lacking the funds to be able to provide a birthday for their children. No child should ever have to go without celebrating the day of their birth because a parent must make the difficult choice between that month's bills and the birthday wishes of their child.
Now a member of the Council, Wish I May continues its collaboration with other nonprofit organizations to serve under-resourced families in the Ozarks.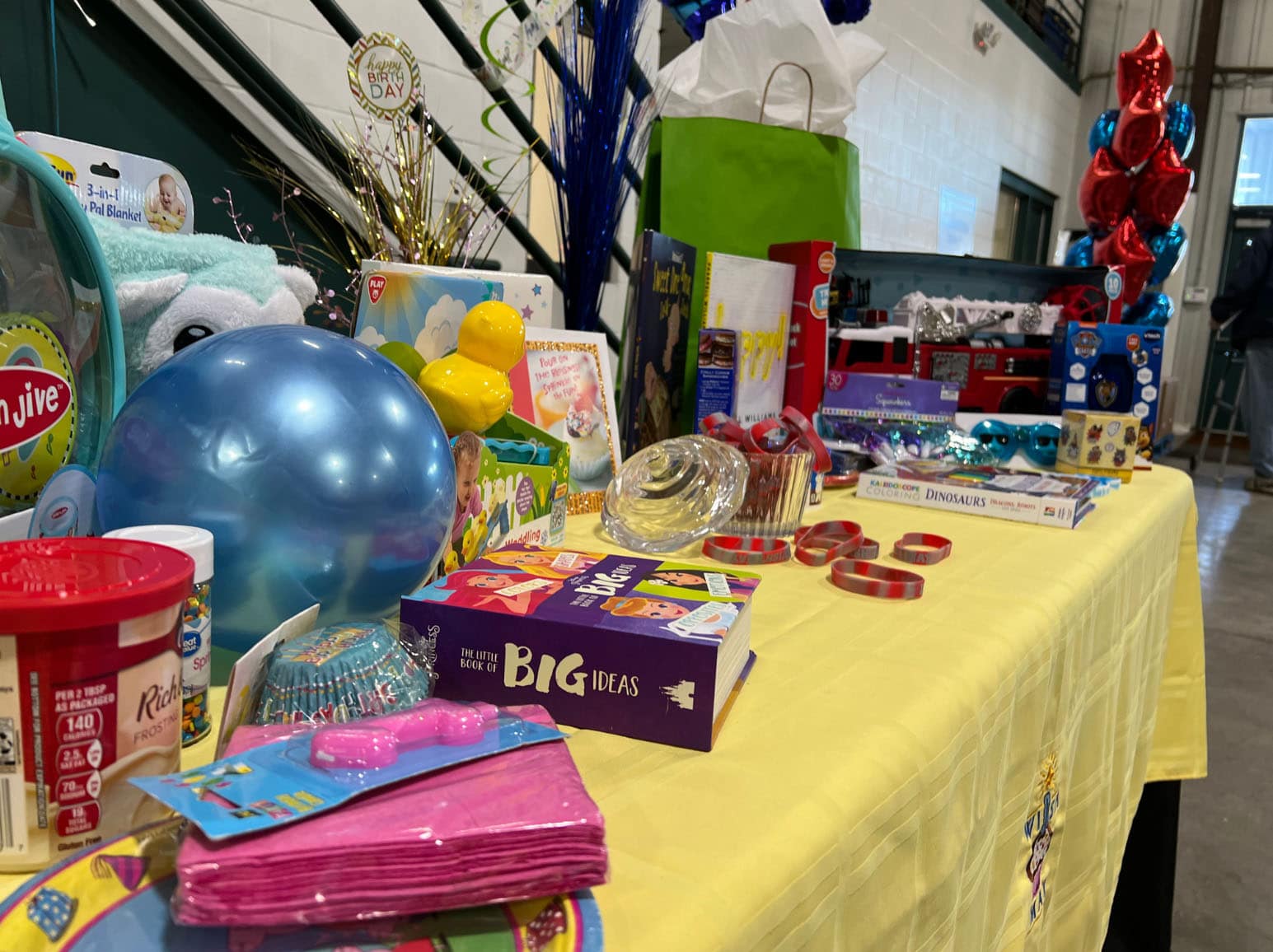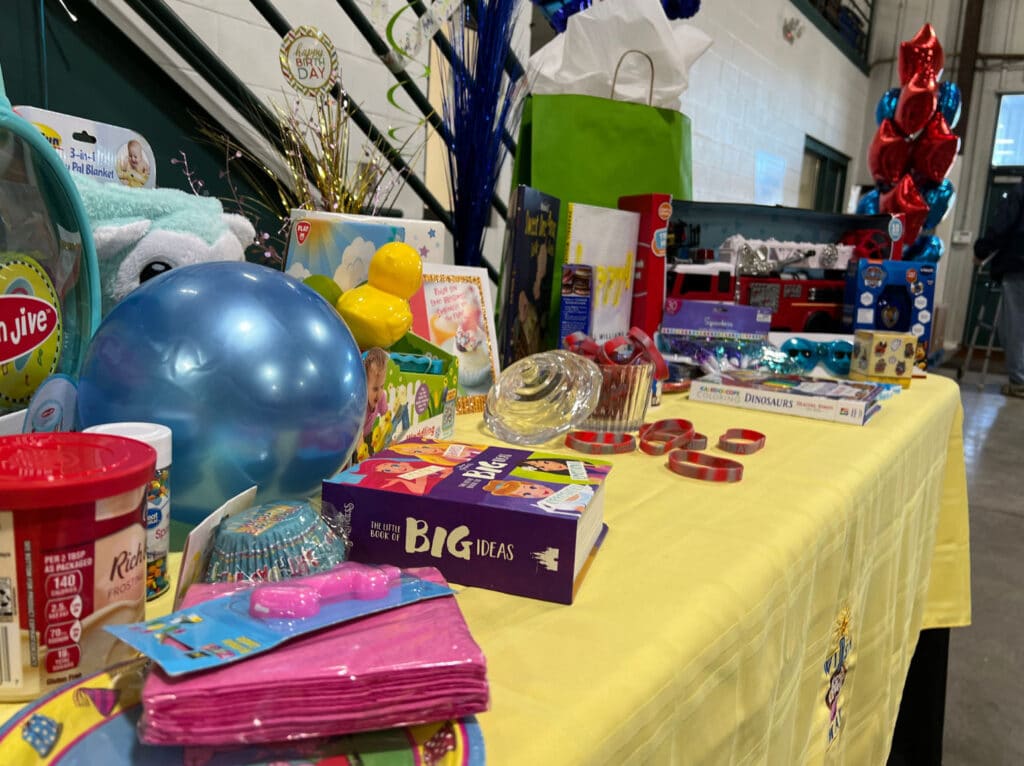 A birthday bag will include a cake mix, icing, candles, birthday card, party plates, napkins, age-appropriate toys and books, gift bags and tissue paper. Each bag is valued at approximately $50.
With Your Time
"Wish I May" is a volunteer-run organization by people in our community striving to make a difference one child and one birthday at a time. We are always in need of enthusiastic people who want to jump in and donate time to pull together all the trimmings of a birthday, deliver bags to our partners or are willing to make a toy run when companies have a toy drive.
With Your Gifts
We need toys!!! We need party goods!!! And we need your help in getting the word out to your co-workers, family, and friends. We serve children aged 1 -15, so we can use any age group toy, gift cards, and everything you would want to throw your own party or a party for a child you love.
Donate Frequently Needed Items
Gift Suggestions for Toddlers
Pull toys

Bath Toys

Puzzles

Blocks

Hit the Fisher Price aisle and have fun
Gift Suggestions for School Age Kids
Coloring books

Board games

Puzzles

Barbies

Baby dolls

Balls – basketballs, baseballs, soccer balls, footballs

Stuffed animals

Girly stuff – hair accessories, lotions, nail polish, purses

Action figures

Legos

Trucks/remote control cars

Craft Sets

Drawing Sets
Gift Suggestions for the Older Kids
Nail Polish

Makeup Sets

Bath and Body sets

Fleece Blankets

Axe Deodorant

Earphones/buds

Adult coloring books
Gift cards from
Old Navy

Walmart

McDonalds

Sonic

Target

Academy Sports
Party Supplies
Candles

Party plates & napkins

Cake mixes and Icing
*Donations can be dropped off at:
Crosslines, 3055 E. Division St., Springfield, MO 65802
What are Fun Ways to Get What "Wish I May" Needs?
Have a dress down day at your company to benefit Wish I May.

Have your Sunday School class choose a different age each month and bring age-appropriate toys

Ask your customers to help "Wish I May" with a toy drive or a cake mix drive. We will bring you some great birthday boxes to collect the donations in!

Allow us to share Wish I May's mission at your next club or organization's meeting.
The most fun way?
Throw a birthday party for yourself or a friend– but this year ask for toys for "Wish I May" – when was the last time you got to open tons of toys? And this time you will know every one of them will go to a deserving child!